Classic Tanzania Safari
Voted as the best African Safari, Tanzania Safari Tours offers everything, abducens of wildlife, seemingly unending savanna, luscious green landscape, the alluring African Big 5, and not to forget the great wildebeest migration, Serengeti. But there is more to Tanzania Safari Holidays than meets the eye. This Tanzania Safari Package allows you to experience safari Tanzania in the most classic and primal way. Embark an unforgettable journey through Tanzania's ultimate wildlife area; Tarangire, Lake Manyara, Ngorongoro crater with our Classic Tanzania Safari
Tanzania Honeymoon Safari
Special people deserve special treatment. Something magical… In addition to some of the best game drives and wildlife viewing, Tanzania is the most popular African destination for a Honeymoon safari. Propose above the Serengeti sky on balloon safari or go on dates among romantic flamingos; Tanzania safari is all about vast plains, balloon safaris, luxury tents, and huge herds of animals, and not to forget the fantastic Indian Ocean havens a short flight away and much more.
Bush To Beach Safari
Make adventurous memories for a lifetime with Tanzania's bush to beach safari. This Tanzania Safari package is an awesome combination of Tanzania safari and Zanzibar beach holiday. The country of Tanzania is blessed with a long tropical coastline and coral-fringed islands. The list of the hidden gems of beaches filled with numerous Zanzibar beach activities is practically unending. With the beach to bush safari, you can easily head straight from your Tanzania safari camp after breakfast to the powder-soft beach just in time for sunset cocktails. And what's more, Kinesi Tours & Safaris have designed this ideal holiday for entire families of all ages. It's the perfect conclusion to your Tanzania Safari adventure where parents, grandparents, and children come together creating memories of a lifetime.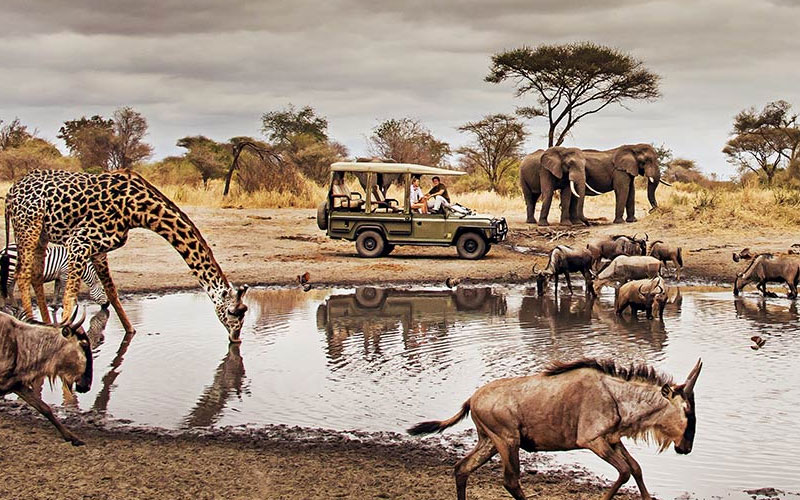 Wildebeest Migration Safari Tanzania
The great wildebeest migration is the most popular attraction of Tanzania Safari Tours. Every year thousands of tourists flock towards Serengeti National Park, Tanzania to witness this spectacular natural cycle. But in order to witness this nature's greatest paradox, you have to be in the right place at the right time. As, it all depends on the animal movement, which is a little bit trickier to predict. But fortunately, Kinesi Tours & Safaris have over 20 years of experience under their belt. We know where to go and exactly when to go. We can give you your best possible chance to witness this mind-blowing phenomenon from the best possible vantage point at any given time of the year.
Trekking Adventure
Picture yourself staring directly at a lion. Imagine looking into a pair of wild eyes and seeing a version of yourself gazing right back, a version with sharp teeth, a version that lives in harmony with your surroundings. Imagine hearing soft murmurs of the wild animals going about their daily business; the feel of the wild in your hair or sun on your face; imagine exploring the national park on foot looking for the small habitat of animals that you may otherwise have missed from your vehicle. Get up close with nature, with our exclusive trekking adventure safari, take a journey through vast northern Tanzania from a different perspective.
Tic The Big 5 off Your Checklist
Safari Tanzania's rich biodiversity makes it unique, and the kind of flora and fauna that you can see here is second to none. But, spotting these Big 5 is arguably the Best Safari In Tanzania. The charm of Big Five is sky-high among all wildlife lovers across the globe. No wonder, Tanzania Safari Tours with its rich natural beauty, endless game drives combined with the unquenchable thrill of spotting Tanzania's most wanted, has become the safari hotspot of the continent.
Whatever your travel wish may be an adventure, wildlife, relaxation; Kinesi Tours & Safaris here for you. Choose from our exclusive tailor-made Tanzania Safari Packages accordion to your Safari wishlist and budget. For more information visit our website today.