Yes, Tanzania is a relatively safe country. Every year millions of tourists visit this beautiful country in the hopes of a thrilling Tanzania Travel experience. And, the statistics say that maximum tourists leave the country with their heart bubbling with joy and a secret promise to visit again.
That being said, we urge you to always stay cautious and follow all the safety measures dictated by our Tanzania Travel Safety.
Tanzania Safari Safety Tips
On behalf of Tanzania tourism and Kinesi Tours & Safaris we suggest you abide by the following norms to ensure maximum safety:
Tanzania, particularly Dar es Salaam, has its fair share of robberies, petty thefts, and threats of violence.
Therefore, we urge you to be cautious especially around Arusha and northern Tanzania.
Always prefer registered taxis.
If you're traveling by road and coming through Rwanda, Burundi, and DRC borders, there are chances of an attack from armed bandits around Mount Kilimanjaro and the Serengeti and Arusha National Parks.
As per Food Safety in Tanzania, we suggest you avoid buffet food or anything that has been re-heated or left exposed. We recommend you avoid seafood as well.
Always prefer bottled water. Even for brushing your teeth, don't use tap water.
Tanzania Entry Requirements
Up to date and valid Passport
Three-month single-entry tourist visas (can be issued from embassy, airports, or border posts)
Tanzania Visa
A valid passport of at least 6 months beyond your arrival date is mandatory. You can issue a Tanzania visa for $ 50 upon your arrival at the airports in Dar es Salaam, Kilimanjaro, and Zanzibar. The visa would be valid for 30 days.
If you are traveling by road then you can also buy a visa at most border posts. Please contact the embassy in your home country for information about your visa to Tanzania or neighboring countries.
People & Culture Of Tanzania
With more than 120 ethnic groups Tanzania enjoys a diverse ethnic makeup, with a noteworthy number of Asians, Europeans, and Arabs too.
Tanzania is known for its strong social code of politeness and respect.
Swahili and English are the two official languages of Tanzania.
Tanzania harbors multiple religious affiliations including Christianity and Islam in the majority.
Even though Tanzania has a weak economy, the people of Tanzania are well-known for being harmonious and friendly.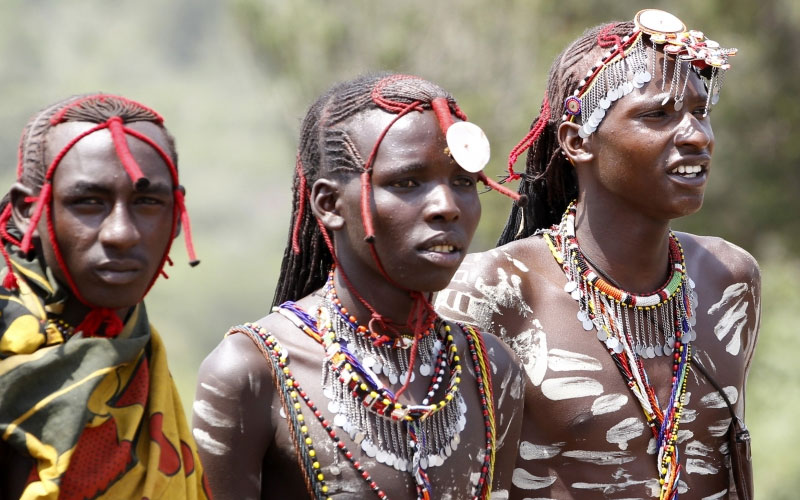 Tanzania Travel Safety Advice
Kinesi Tours & Safaris recommend you the following Tanzania Travel Safety measures to ensure maximum safety during your Tanzania Safari Holidays:
How to Stay Safe during Wildlife Viewing Activities?
Kinesi Tours & Safaris' capable Tanzania Safari Guide will be in charge of your safety. So, you must adhere to his instructions and follow the park rules. We strongly discourage you not to leave your car outside of designated areas, and not getting close to animals unless your guide encourages it.
Tanzania Safe for Solo Female Travellers?
Most solo female travelers often wonder about their safety during Tanzania Safari Tours. Well, put all your doubts into bed. Because with Kinesi Tours & Safaris, all women, senior citizens, children, and adults of all age groups are safe and secure
Tanzania Travel Security
All in all, Tanzania is a very safe country to travel to. The locals are warm-hearted and generous people and are always eager to help. Tanzania is a multi-democratic country and is politically stable.
Tanzania Travel Safety; Do's and don'ts
It is an offense to:
deface a Tanzanian banknote;
urinate in public;
sunbath topless;
hire a prostitute;
buy or take drugs;
remove wildlife products from Tanzania,
Export products made from elephant, rhino, or sea turtle derivatives, or to remove coral.
Swearing and blasphemy are inadvisable.
Hopefully, we've eased all your worries about Tanzania Travel Safety. For more information regarding our exclusive Tanzania Safari Packages, visit Kinesi Tours & Safaris today.