Mount Kilimanjaro Facts
Towering at 5,895 meters above sea level, Kilimanjaro is the tallest free-standing mountain on earth.
The last major volcanic emanation from the Kibo cone of Kilimanjaro happened more than 360,000 years earlier.
The last volcanic development happened over 200 years ago. Today climbers can see the powder pit from Uhuru Peak.
As a result of ecological change, Kilimanjaro has lost 82% of its ice top since 1912 and more than 55% of its exceptional ice sheets since 1962.
The average Kilimanjaro Success Rate is a little low. According to a recent survey, the annual Kilimanjaro summit Success Rate is 66%.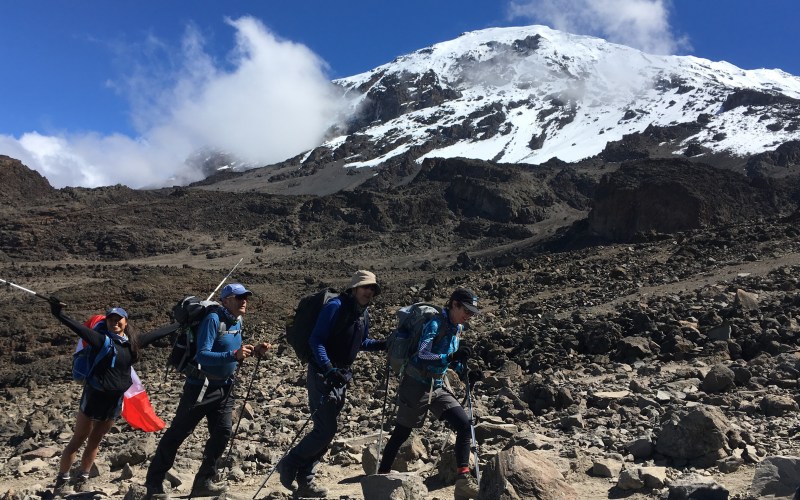 Kilimanjaro Climbing Routes
There are seven popular Mt. Kilimanjaro Hiking Routes.
Marangu: The Marangu AKA the "Coca-Cola'' route is the only route with huts you can stay in. It is considered to be the easiest due to the gradual slope. Having said that, it has one of the lowest success rates of just 65%.
Machame: This Kilimanjaro route is also known as the "Whiskey" route. With a 90% success rate, it offers excellent acclimatization and views.
Lemosho: It has an over 90% success rate. It is the same as the Machame route after the second camp (Shira Plateau). The only difference is it gives an extra day on the mountain.
Rongai: With a success rate of 85%, this route is easier than Machame, Lemosho, and Shira, but less crowded than the Machame Route. . It approaches from the north of the mountain and is most preferable during the rainy season as it's more sheltered.
Northern Circuit: This is the newest and the longest Kilimanjaro route with the highest success rate of 97%.
Umbwe: Success Rate is 75%. Approaching from the southern direction, it is the toughest route among all routes.
Best Time To Climb Kilimanjaro
You can Climb Kilimanjaro all around the year. However, the dry months of June to October are widely considered the best month to climb Kilimanjaro. But, if you plan your Kilimanjaro trip around January to March you can expect to see snow on the upper slopes of the mountains. Plus, due to the chilly weather, most of the routes would be crowd-free. Hence, you get a hassle-free, less congested and, more relaxing Kilimanjaro experience.
Kinesi Tours & Safaris strongly advises you to avoid the months of April, May, and November for your Kilimanjaro Trip. These are the wettest months of Mt. Kilimanjaro which is not ideal for trekking.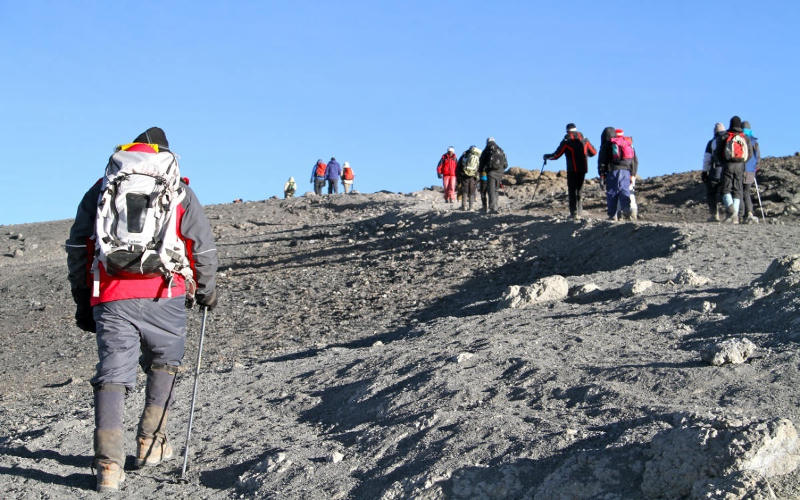 Kilimanjaro Climbing Tips
Ever herd, "Slow and steady wins the race"? So, keeping a slow pace is the key here. Even your Kilimanjaro Guide will remind you from time to time "pole pole". Listen to them.
It's better to take a quick snack breaks at regular intervals during your Kilimanjaro hike. As this will help break your journey and will provide a small boost of energy when you're feeling drained.
Always keep yourself hydrated. This is necessary to fight altitude sickness symptoms. Best to make a habit of sipping water at regular intervals, and you'll be shorted.
A fit hiker is more likely to enjoy the entire Kilimanjaro experience. So, best to complete short treks or practice hikes before your Kilimanjaro travel.
Climbing Mount Kilimanjaro cost
Mount Kilimanjaro Hike ain't ganna be cheap. To estimate the exert amount of Kilimanjaro Climb Cost, you need to consider the season, the route, and the length of the summit. Also, the purchase of any extra equipment, accommodation, or any additional transportation will influence the budget.
The average cost of climbing Mount Kilimanjaro will come from around $1000 to $4000 with some variables. This does not include your accommodation before and after, your vaccinations, or the flight. Additional $1000 or $2000 should be enough for these costs.
Conquering Mt. Kilimanjaro will take a decent amount of fitness, mental stamina and not to mention a good sense of humor. But in the end, it'll be all worth it. When you get yourself that cavorted photo at the top of Uhuru Peak you'll forget about your aching muscle or tired body or sleep-deprived mind. It'll be a completely out-of-the-body experience that is going to change your perspective of life forever.
With an average 96% success rate, Kinesi Tours & Safaris is the no 1 responsible tour operator in Kilimanjaro. All our Kilimanjaro Guides are well experienced, highly trained, and certified to the highest industry standards. To know more about our exclusive Kilimanjaro Travel Packages, visit our website today.