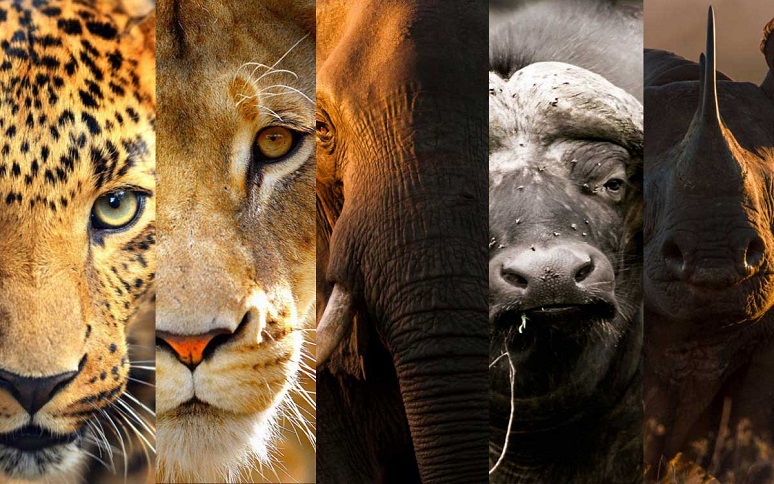 Tanzania, an East African country boasts of some of the world's best national parks and conservation areas. Experiencing the rich and diverse culture spread across the entire country add on to its already vibrant list of to do's. Tanzania has a vast area reserved for wildlife habitat and protection, conservation and research purpose. Tanzania Destinations being one of its kind offer incredible Tanzania Safari options.
With such a varied and diverse option Tanzania National Parks has made its place into the bucket list of so many travellers from round the world. All of Tanzania's national parks have their own special appeal. Below we tried to narrow down the list of Tanzania Safari Destinations into a compact write up for all of your convenience.
SERENGETI NATIONAL PARK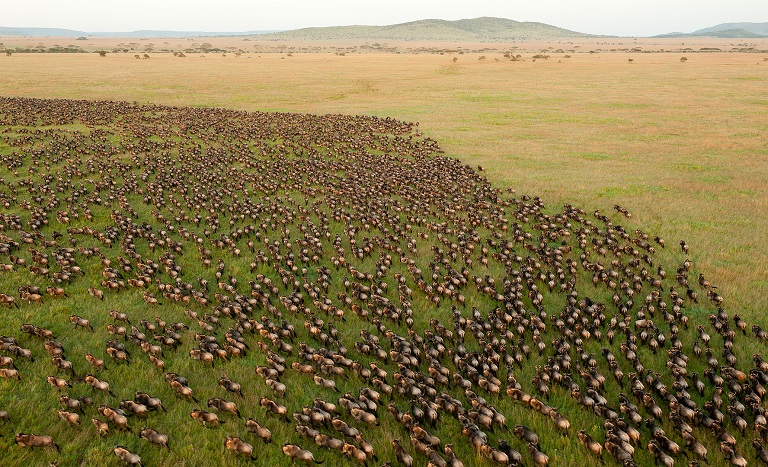 Serengeti being the most famous of all is placed among the UNESCO World heritage sites. It comprises of various ecosystems ranging from grasslands, woodlands, swamps and rocky terrains. It has highest concentration of large mammals that includes the big five. It has also highest concentration of predators in the whole of Africa guaranteeing ultimate prey-predator actions.
Serengeti National Park is famed for the great migration and definitely the most waited moment to be captured by the visitors. The iconic movement of mammals, where two million strong wildebeests along with hundreds and thousands of zebras and gazelles stampede across the savannah in search for better Pasteur.
Home to all of Africa's Big Five, the Serengeti is like a wildlife lover's dream come true. There are chances to see elephants, lions, leopard, buffalo and rhinos, along with giraffes, zebra, cheetah, spotted hyenas. With over 500 species of bird it is a haven for bird watchers.
The spectacular wildlife presence makes Serengeti one of the most sought after Tanzania Safari Destinations.
NGORONGORO CONSERVATION AREA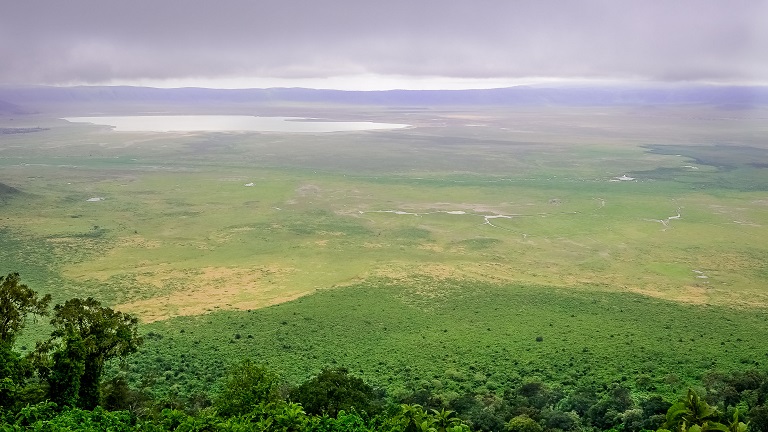 Ngorongoro Conservation Area is another UNESCO world heritage site in the northern circuit of Tanzania. It's also one of the few places in Africa where you can see all of the Big Five (elephant, lion, leopard, rhino and buffalo) in a single day, and the conservation area protects Tanzania's last remaining population of the endangered black rhino.
The place is also known for the largest volcanic caldera, Ngorongoro crater. It is huge in size and the largest unfilled crater that has been inactive since several million years.
The abundant wildlife and the surrounding scenery make the sightings in Ngorongoro all the way more beautiful and dramatic. Ngorongoro conservation area is an extension of Serengeti plains, with lake Natron in its northeast, Lake Eyasi in its south and Lake Manyara in its east.
You'll have the chance to see spotted hyenas, cheetahs, leopards, large herds of buffalo and gazelle, and even the critically endangered African wild dogs.
LAKE MANYARA NATIONAL PARK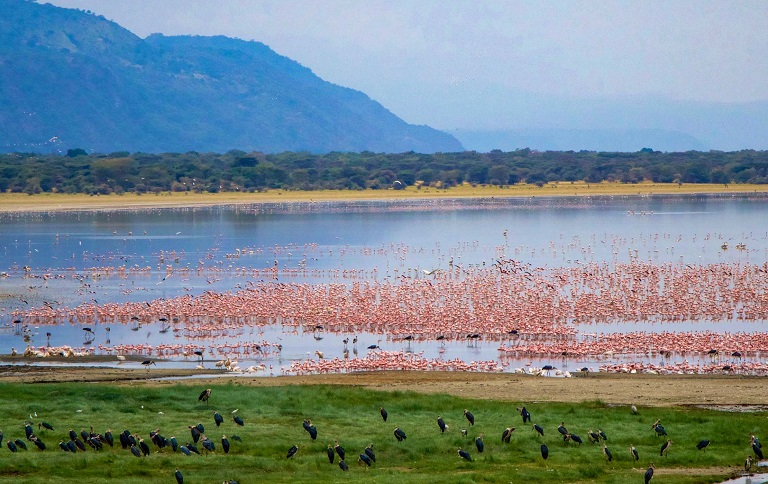 Lake Manyara National Park falls on the way from Tarangire National Park to Ngorongoro. It is home to a vast and varied wildlife and offers splendid bird watching opportunities.
Known for its unique ecosystems bursting with diverse wildlife. This mini version of the Serengeti is filled with forests, floodplains, hot springs and open savannahs.
Lake Manyara, a beautiful soda lake which attracts hippos, pink flamingos and more than 300 other migratory birds.
Manyara National Park boasts of highest concentrations of large mammals. Huge herds of elephants and the famous tree-climbing lions, along with great populations of wildebeest, zebra, buffalo, giraffe, warthog, impala and waterbuck can be spotted.
There is also a good chance to spot few primates including baboon, vervet monkey and nocturnal bushbabies.
TARANGIRE NATIONAL PARK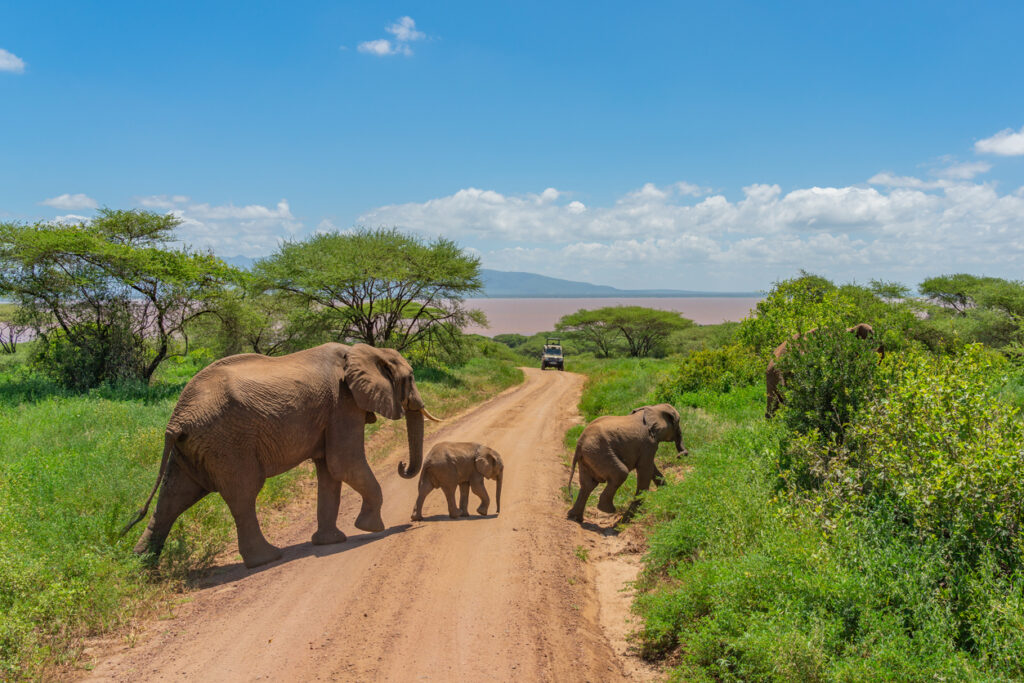 Tarangire National Park is a part of Northern Circuit Safari and is the sixth largest park in Tanzania. It is known for spotting large herds of migratory elephants sometime between June to October. It is home to the famous big five of Africa along with the Impalas, wildebeest and zebras except the Rhinos.
It is also an excellent spot for birding as it is home to highest numbers of birds in Tanzania.
Try clubbing Serengeti and Ngorongoro for an increased chance of spotting the big five while on a Safari In Tanzania. These are both included in the northern circuit safari and are located closer to each other. Still left with any other queries? Or for further assistance in planning your big five Safari in Tanzania, please feel free to connect or visit our website at www.kinesitoursandsafari.com and we would be happy to help!